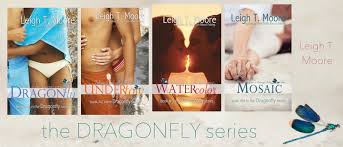 Author: Leigh T. Moore
Genre: Contemporary Romance
Books currently in the series: Dragonfly, Undertow, Watercolor, Mosaic
Want to hear my thoughts on the series?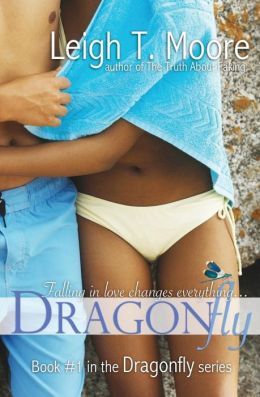 Anna Sanders expected an anonymous (and uneventful) senior year until she crossed paths with rich-and-sexy Jack Kyser and his twin sister Lucy. 

Pulling Anna into their extravagant lifestyle on the Gulf Coast, Lucy pushed her outside her comfort zone and Jack showed her feelings she's never experienced… Until he mysteriously withdrew.

Anna turned to her internship at the city paper and to her old attraction for Julian, a handsome local artist and rising star, for distraction. But both led to her discovery of a decades-old secret closely guarded by the twins' distant, single father.

It's a secret that could cost her the boy she loves and permanently change all their lives.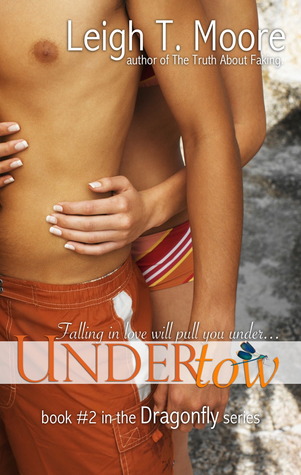 Falling in love will pull you under… 

-Bill Kyser has a plan to take the sandy farms of his hometown and turn them into a world-class tourist destination–and become a billionaire in the process. 
-Alexandra "Lexy" LaSalle has a plan to change her life by becoming a world-famous artist. 
-Meg Weaver has a plan to hold onto Bill no matter what she has to do. 
Three friends, three dreams. One fatal decision will change all their lives forever. 

In Dragonfly, Bill Kyser gave Anna the three journals that held the story behind the powerful developer's seclusion and the damaged lives of his family members. 

Anna hopes to find a way for Julian to know the truth, but as she digs deeper into the tragic events of the past, she realizes silence could be the only option. 

Now she's in an alliance with the man she formerly feared. And if Julian finds out what she knows, she could lose for good the boy she's starting to love.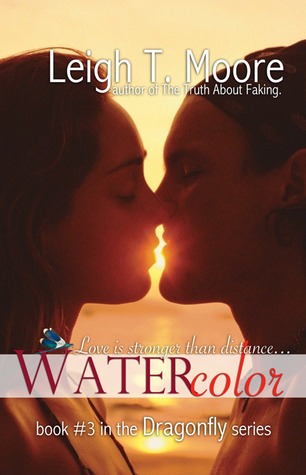 Love is stronger than distance…

Finishing senior year is supposed to be the best time in a person's life.
Finishing senior year as Julian's girlfriend should've been the icing on the cake.
Knowing the secret that could change everything for him is the only thing threatening to spoil it all. 
Until Jack returns.

Anna and Julian are together at last, and it's as hot and happy as they knew it would be. The only problem is The Secret. 

And Jack. 

But while Anna is determined to fight for the guy she loves, she could still lose Julian when he discovers the truth she's been helping to hide.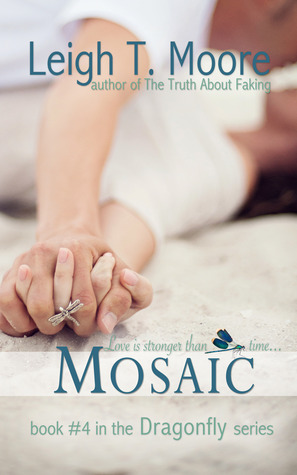 The future never goes as planned.
People are never what they seem.
Time changes everything.

So you want to know what happened to Anna and Julian? Well, listen up, because I've got the whole scoop. I'm Jules, btw, and I am an artist, as you already know if you've read Watercolor. What you might not know is I inherited my mother's cute little newsy nose, thank you very much.

It's high school reunion time, and everyone's coming back to Fairview—everyone who's not already there, mind you. What went wrong, who's fault it was, and why the heck nobody knew about me… it's all coming out.

Long-distance relationships rarely last, and a lot of water has passed under that bridge. Big Secrets will be exposed, and in the end we'll know if that old saying is true: Love is stronger than time.



"The books are most successful and most compelling when Moore brings the tension"
 My favorite of the series was the first installment, Dragonfly. While some say love triangles have been overdone in YA romance, Anna's attraction to Jack is believable as she struggles with her growing love for her friend Julian. There's tension and palpable desire here that I miss in the rest of the series.
Overall, I love the premise of these books: a long-kept secret held by one generation spills over into their children's lives, wreaking havoc with their loves and their futures. Much of the parents' generation's story is told through the contrivance of three diaries, and too often, they read as a contrivance. In Undertow, It's hard to imagine anyone actually writing, as one does, "My mother, Mrs. Georgiana Weaver, is on practically every volunteer board and committee in South County.That's because my daddy, Dr. John Weaver, is the best surgeon at the hospital in Fairview, and he's a founding member of the hospital expansion committee." This information needed to be conveyed, but no one is likely to write like this about themselves in a document ostensibly for and about themselves, so it feels a little clunky. Despite this style problem, the older characters' stories are realistic and credible, and though the same story is told three times, it doesn't seem too repetitive. A greater distinction between narrative voices would have made this aspect even more successful. I really like Julian and his mom. Those are people I would like to know IRL

In Watercolor, a new character seems to emerge out of nowhere and it's difficult at first to accept that his story is as important as it is to the characters who had never mentioned him before or seemed to take an interest in the issue (don't want to give too much away here) but it sets up events for later books. The Julian-Anna-Jack triangle pretty much dies here and I miss it. I didn't exactly understand why Julian and Anna split up for a period, or why any of the adults would have let Anna in on such intimate details of their lives, but as a reader you just have to accept that premise. However, I wish some of the big events had been "written bigger" and some of the smaller ones had been skipped or minimized (it seems that finally learning who your father is, for example,  should be a little more world-shattering than it is here).
Mosaic takes us years into the future and shows us how the younger generation seems to repeat the mistakes of their parents. A new narrator emerges and I found her somewhat forced, especially in her British-isms. Lines like "I read your sodding private blog, Mum. I know he was shagging some chav named Renee, and that's why you left. He's not just a wanker, he's a sodding git" sound like a parody.
Overall, the books are most successful and most compelling when Moore brings the tension, as in this scene from Undertow:
I kissed him back. Our lips parted, and it was like
a sip of cool water after a long day in the hot sun. Such a relief.
He moved closer to kiss the side of my face, my neck and my hair. I
tightened my arms around him, resting my head on his shoulder and
inhaling deeply.
So sweet, so sad. I wished with everything in
me there was a way to change things. And when I opened my eyes,
there she was.
Meg was standing motionless in the backlight
of the hallway watching us.
My eyes flew wide as I pushed Bill away.
"Meg! It's not what you think."
She didn't move, and even in the backlight I
could see the betrayal on her face, her body trembling. I took two
steps toward her, and she backed away.
"Meg…"
I could barely whisper her name as I
took another step. She turned and ran, and I stopped at at the door,
trying to catch my breath, reeling from the shock.
Nonetheless, these books would make some great beach reading, especially since many of the most enjoyable scenes take place on Gulf beaches. Moore really takes you there with excellent sensory details. As a beach girl myself, I wanted to join them.
And I really, really want a dragonfly ring. You will, too, after reading these.
Note: These books are a little steamy, so they're definitely upper YA fare and could also be considered NA as the characters go off to college and even adult/parenthood.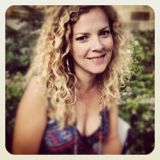 Check out the series on Goodreads, Smashwords,  and Amazon.