Title: Divine and Dateless
Author: Tara West
Series: Eternally Yours
Published by: Shifting Sands
Date published: July 5, 2014
Genres: Fantasy, Satire/Humor, Paranormal
Book Length: 258 pages
Steam Rating: Steamy
Main Characters: Ash & Grim
Buy on Amazon
"The way that Tara writes draws me in and makes me feel like I could easily be living in the apartment next door and just watching things unfold through the peep-hole like a peeping tom. (hehe you know you love my descriptions!)" ~Becca

Good girls go to heaven. Bad girls go all the way…

What can be worse than electrocuting yourself while getting ready for your internet date? Realizing the hot stud you've been fondling is the Grim Reaper? Being chased by a sex-crazed, bloated, naked corpse?

How about an eternity of more bad hair days and horrific dates? Or lusting after the one guy in all the afterlife whose hydrophobia rivals his fear of commitment?

Yeah, that's a whole lot worse.

Wow! What a book! This one has been on my TBR list for weeks…and by the time I finally got around to reading it I sort of forgot the details about it…let's just say that it was priceless! I have never read any of Tara West's books before, but I will definitely be digging through and finding time for them soon! Divine and Dateless is a little hard to review without spoilers…so this won't be an uber long post! But I'm going to do my best…
Let's start with the story!
I was flabbergasted by how utterly fantastic and mind blowing this story is! It is thought provoking while still managing to be 100% insanely hilarious! I can honestly say that I laughed so hard that I peed a little during this book! (Hey don't judge me! I've had two kids…sometimes moms have that problem!!) So what made it so dang funny? 
Well…check out this little snippet…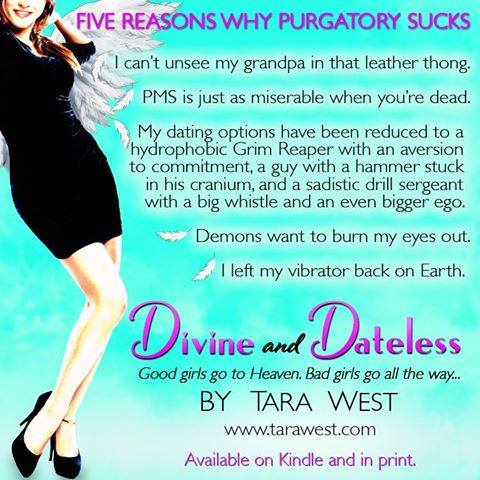 Yeah…uh huh…read that without at least giggling! That's what I thought!
Okay…so back to the story line! Ashley MacLeod is dead…but she doesn't quite figure that out right away. The Grim Reaper, Aedan O'Conner, that shows up to get her is drop dead gorgeous (hahahahaha pun intended) and Ash thinks that he is her blind date. The rest of the story leads us through the most intriguing and well thought out idea of an afterlife that I have ever read!
Here are the basics:
The afterlife has an interesting set up: Heaven (The Penthouse) and Hell (The Basement) with levels of purgatory in between.
You have to earn credits in order to move up levels…this means that even once you are dead…you have to have a job!
Your credits are also used for food and living expenses.
See, it's simple and yet amazingly creative and unique! That's about as far as I can go into the story line without give anything away…but…I can share another teaser image with you that definitely had my sides hurting!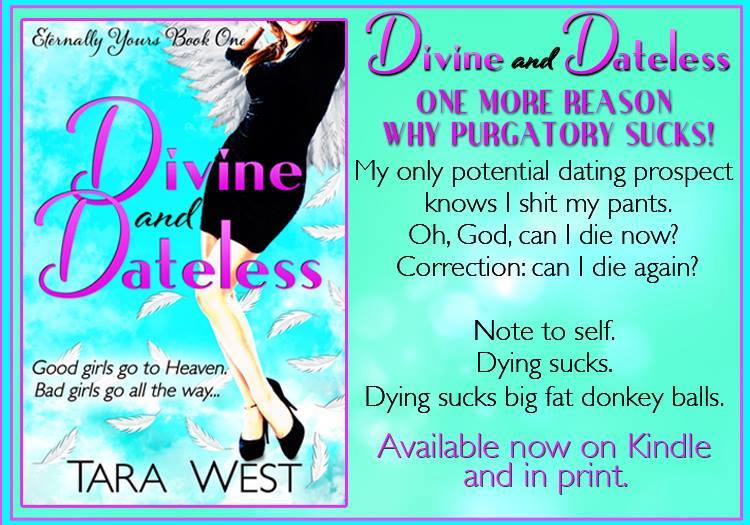 Now let's talk about the characters a bit…
Ash is a woman on a mission…or well she was! She is mouthy, sassy and opinionated and soooo not into community service or volunteer work!
Grim…mmmmm….Grim is sexy as sin and a gentleman to boot! At least he is when he isn't being an jerk. 
When these two are around one another sparks fly and attitudes soar! The sexual tension is crazy and just made me want to pull my hair out because they kept pushing one another away. I was amazed by how strong my reactions were to this book! Again there isn't a ton I can say here that wouldn't spoil something for you…and you guys know how much I hate doing that!
Gosh, if I went into the amazing "extra" characters in the book I could be here forever! The way that Tara writes draws me in and makes me feel like I could easily be living in the apartment next door and just watching things unfold through the peep-hole like a peeping tom. (hehe you know you love my descriptions!)
Let me just go ahead and say what needs to be said…
Divine and Dateless by Tara West is laugh out loud funny and still manages to have so many AWE moments that I fell in love! The characters are sweet, deep and believable. (I do believe Ines is just perfect and Boner…wow…yeah you go Boner!) The story is unique, intriguing and captivating. Overall, this book is one that I definitely think you should pick up…just don't do it unless you have the time to sit down from start to finish, I promise you won't want to put this one down!
Want to know the best part?? Book 2 is coming soon!!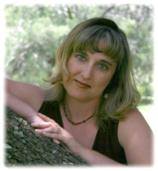 Tara West writes books about dragons, witches, and handsome heroes while eating chocolate, lots and lots of chocolate. She's willing to share her dragons, witches and heroes. Keep your hands off her chocolate.
Tara West's young adult and new adult romances have been Kindle bestsellers. A former high school English teacher, Tara is now a full-time writer and graphic artist. She enjoys spending time with her family, interacting with her fans, and fishing the Texas coast.

"Do you want to pick up where we left off earlier this evening?"

The rusty wheels churning in my brain came to a screeching halt. "Huh?"

He scooted over and pulled up his knee. A soft sigh escaped my lips as he grazed that sensitive juncture between my thighs. That's when I realized my legs had somehow fallen open. Holy fuck! When did that happen? It was as if my inner-whore had taken over, robbing me of all sense of reason.

"We shared a kiss," he said as he shifted his knee again, rubbing more moisture into my already soaking panties. "Do you want another?"

"Yes," I rasped before jerking my head up. "No!" I shook my head. "I don't know."

What the hell was the matter with me? This hot stud so obviously wanted to fuck. I so obviously needed to fuck. I was a total idiot for turning him away.
Luckily for my starved libido, he wasn't so easily deterred. "We'll take it slow if you like," he said as one corner of his mouth hitched up in an impossibly sexy grin.

"I'll do anything you want, Ash." His eyebrows dipped beneath the shadow of his thick hair as he clasped my hand in his. "Anything."

When he brought my palm to his lips, trailing delicate kisses across my skin, I was done for. Sweet Hell on fire, I'd never been so turned on by a man before. Never.

The heat from his virile body encompassed me as he leaned closer. Wrapping my arms around his neck, I let his musky scent permeate my last thread of resistance and sink into my skin.

"Taste me," he breathed against my lips.

And so I did, just one little nibble on his lower lip. Then another. When his tongue darted into my mouth, I opened to him, and he poured his warmth into me.

He tasted different than the first time we'd kissed, not bitter, not rough, but sweet, like chocolate cheesecake. Somewhere in the recesses of my hazy mind, I was reminded this man was not the same man I'd kissed earlier. This man was not even real, but hot damn, he sure was a fine kisser.
My legs spread like melted butter as his hand grazed inside of my thigh. I moaned into his mouth when he hitched up the flimsy fabric of my skirt and slipped a finger beneath the hem of my panties. He slid them off with ease, and I was vaguely aware of them falling to the floor. That's when I wiggled my toes and felt nothing but air beneath me.

"We're floating," I gasped, reluctant though I was to break the kiss.

"It's easier to undress you this way." He slipped my little dress over my head before deftly unclasping my bra and tossing it to the floor. I was totally naked now, exposed and vulnerable, pinned beneath his big, virile body, floating somewhere under the rafters on a cloud of lust, and not caring one bit about my safety.


Don't forget to check out our Monthly Giveaway page to see what else is included in this awesome giveaway!
Tara West is giving away an eBook of Divine and Dateless!
a Rafflecopter giveaway
What would you do if the one good dating prospect you had knew that you shit your pants??