Title: Kidnapped Cowboy
Author: Lindsey Brookes
Date published: February 11, 2013
Genres: Contemporary, Western, Comedy
Book Length: 380 pages
Steam Rating: Steamy
Main Characters: Caitlin & Dalton
Buy on Amazon
"From PAGE ONE I was laughing, cringing, and crying! This book literally had me hooked within minutes of picking it up! I haven't read a book lately that grabbed me this fast and kept me to the end…heck it had me hoping that there will be a book two…come on…Brandon needs his story told too!!" ~Becca

After countless attempts to speak with the owner of the retreat for troubled teens she runs on the outskirts of Lone Tree, Montana, Caitlin Myers resorts to kidnapping Brandon 'The Ogre of Lone Tree' Barnes in a desperate attempt to change his mind about turning Stoney Brook into a vacation resort for the wealthy. 

Retired rodeo star, Dalton Barnes, gets the surprise of his life when he's abducted by a soft-spoken female with a 'gun' and taken to the retreat his family owns. He soon learns she's kidnapped the wrong cowboy by mistake. She wanted his brother. Things go from bad to worse when a late spring snowstorm strands them together at the cabin. But it's during their snow-in that Dalton learns why Caitlin has gone to such lengths to save Stoney Brook. Having had issues with his older brother himself and a not so happy past, Dalton promises to do what he can to help her. 

When confronted Brandon tells Dalton he'll hold off on his plans for the retreat, but only if Dalton agrees to stick around and help run it. Keeping his promise to Caitlin, Dalton agrees and what starts out as a common goal to turn the troubled teens' lives around that summer ends up turning theirs around as well. Can a man who has always avoided putting down roots and a woman with a deep-seated fear of abandonment hang on to the happiness they've found together? Or will the past return to threaten their newfound love? 

Love, laughter and a heartwarming read…

I ran across this book while looking for a FREEBIE to share with my readers and boy am I glad that I did! I believe I have found yet another author I am planning on book-stalking! Hehe

From PAGE ONE I was laughing, cringing, and crying! This book literally had me hooked within minutes of picking it up! I haven't read a book lately that grabbed me this fast and kept me to the end…heck it had me hoping that there will be a book two…come on…Brandon needs his story told too!!

Anyways…enough about my inability to put the book down, let's talk story line & characters!

Caitlin is camp counselor at Stoney Brook who stands up for what she believes in…even if that means "borrowing" Brandon Barnes in order to talk some sense into him! If only her luck were better and she managed to get the right man! Caitlin is funny, strong and determined…and yet she is filled with trust issues and quirkiness that makes her character come to life.

Dalton can't believe the night he is having…did he really just get kidnapped and by a woman no less?!? WTH is the world coming to when a man can't go to his truck after a long night of drinking without getting a gun shoved in his back by one seriously nervous woman? Dalton is sweet, caring and kind. He proves his true character when the situation isn't the best he's ever been in. When he finds out why Caitlin has "borrowed" him he gives his word that he will help in any way that he can. I honestly fell in love with Dalton from the very first scene. His character is just so real, so lovable, so down to earth that it is impossible not to! I definitely wouldn't mind "borrowing" him myself sometime! 


With the story line already given to you in the blurb, I honestly thought that this book wouldn't be that interesting…but hey it was free right? So I started reading…and realized rather stunningly quickly that I ADORED it! The characters have depth and are interesting, I truly cared about the outcome of their relationship and the issues in their lives. While the romance was amazing and fun to read, there was sooooo much more to this story than just a romance. It was extremely accurate of what I would expect to find in a real life situation. These characters had a life to lead and problems to deal with and the relationship just fit into it seamlessly. It was interesting to see which of the characters would make sacrifices for the other in order for their lives and love to work out.

The romance alone would have drawn me into the story. The cowboy aspect was sexy and sweet. (I am all for some sexy shirtless cowboys!) I felt that the relationship grew and built from a friendship to something more in a way that was easy to read, fun, and made you feel like a part of the story. The sex was epic and totally cowboy! Hehe I loved watching as Caitlin and Dalton fought their attraction due to issues with their lives. Their dedication to reaching their goals is endearing and just added to the over all feel of the story. Of course we do get the typical "She makes me want to be a better man" thing in this book…but it fits in so flawlessly that I didn't once compare it to other books!

We also get to see another romance/love aspect when it comes to Caitlin and Dalton's relationship with the kids. It was thick and deep and heart warming. The story is filled with positiveness and new outlooks on life and those around us.

I can honestly say that I adored this book and highly recommend it! I also wish to repeat myself once more just in case: CAN WE PLEASE HAVE BRANDON'S STORY NOW????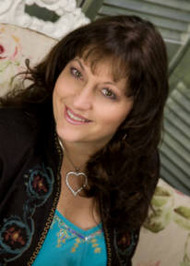 Romance author Lindsey Brookes grew up reading romance novels. She penned her first romance, a historical, at the age of seventeen. From there she went on to join Romance Writers of America where she learned the ins and outs of the publishing business and ways to hone her craft. She switched to writing contemporary romance and has finalled in/or won more than 75 RWA chapter sponsored contests with over a dozen different manuscripts. She is also a three time RWA Golden Heart finalist as well as a past American Title III finalist. She's married to her childhood sweetheart, her hero, with whom she has two beautiful daughters.

Describe your book/series in 15 words or less!
Kidnapped Cowboy – The wrong brother turned out to be the right man.
When did you start writing?
I started writing my first romance – a historical – when I was 17 years old. I even submitted it to publishers. Needless to say it never sold. I had a lot to learn about creating characters and scenes and all the other critical parts of writing a romance. But I never gave up. Years later, I switched to writing contemporary romance and that's where I have had my success.
How did you come up with your books name?
I love coming up with titles. In fact, I usually have my working title before I begin writing a book. Kidnapped Cowboy was easy – she kidnaps the hero and he's a cowboy. In Hooked on You, the heroine's son hooks the hero with his fishing line. In Operation: Date Escape, the heroine is writing a book on ways to get out of bad dates. In Capturing the Cowboy's Heart, the hero is determined never to love again, but the heroine wins him over. Those are just a few examples.
Who are two of your favorite characters in this book?
Dalton – love, love, love a sexy, confident cowboy. Caitlin – who is willing to risk everything for the troubled teens she mentors. (I will say that I've had a ton of reader emails asking about a book for Brandon, Dalton's older brother, a.k.a the Ogre of Lone Tree. How could I not give him his very own happily-ever-after now? So I am working on his story.)
What was your favorite chapter (or part) to write and why?
Looking back, one of the scenes that sticks out in my mind and makes me smile is where Caitlin, the heroine, is still trying to get Brandon Barnes' attention, determined to talk him out of shutting down the retreat she runs for troubled teens. Knowing he's home, but ignoring her calls, she climbs up the trellis outside of his study. Only Dalton sees her in the window first and hurries outside to stop her from ruining the headway he'd made with his brother in regards to keeping the resort open. But just as he gets to the trellis Caitlin is clinging to, it pulls away from the house and lands with Caitlin on top of Dalton. Thankfully, neither are hurt. And it brings her and Dalton closer in a whole new way!
We all need a hero! Tell us about your protagonist(s)? Was there a real-life inspiration behind him or her?
My husband is my hero. I think there's a piece of him in all of my heroes. Just to give you an example, I am terrified of flying. So he drove me from Ohio to conferences in Chicago (twice), Washington D.C., New Orleans, and New York. For the New York conference he drove me the seven and a half hours there and dropped me off at the conference hotel and then drove home. Gotta love that man! He's supportive of my career and a wonderful father. A true hero.
Tell us a little bit about your cover art. Who designed it? Why did you go with that particular image/artwork?
Erin Dameron-Hill designed the cover.  I discovered her at Jimmy Thomas' Romance Novel Cover website.  I've used her for several of my bookcovers. She's awesome.   I've also used Kim Killion for some of my covers.  She's very good, too.  
I'm working on the sequel to
Kidnapped
Cowboy
. Captive
Cowboy
is Brandon's story. The Ogre of Lone Tree deserves his own happily-ever-after.
Who is your favorite "Book Boyfriend"? What series is it from and who wrote it?
I have three favorite "book boyfriends", all brothers, all very sexy highlanders. They are from Pamela Clare's MacKinnon's Rangers series. Iain, Morgan and Connor MacKinnon. I discovered this series when picking up a few new audiobooks with my Audible credit. They were fantastic. In finding them, I also found Kaleo Griffith, an very talented narrator and actor. I knew I had to have him
narrate Kidnapped Cowboy. I wasn't disappointed. He did a wonderful job with the audio version.
What books are on your nightstand or by your chair?
My Kindle goes with me everywhere and it's loaded with books, mostly historicals because that's what I love to read.
Are you the driver or a passenger in your book? (Are you in control of where the story goes or does it sort of just happen?)
I guess I'm the passenger, because I tend to write by the seat of my pants.
If you could have one super power what would it be? Why?
The ability to eat all the chocolate I want and not get fat! Because I love chocolate!

Lindsey Brookes is giving away an Amazon copy of Kidnapped Cowboy as well as a second of her e-books, winners choice!
a Rafflecopter giveaway
Would you have the guts to kidnap someone in order to save something you felt strongly about?