Title: Best Man with Benefits
Author: Samanthe Beck
Series: The Wedding Dare
Published by: Entangled Brazen
Date published: June 9, 2014
Genres: Contemporary Romance & Humor
Book Length: 229 pages
Steam Rating: Risque
Main Characters: Logan McCade & Sophie Brooks
Buy on Amazon
"…how sweet is Logan! Finding a way to help Sophie realize that she is beautiful! Just…AAAWWWEEE!! I'm pretty sure I fell in love with Logan at that exact moment!
" ~Becca

How far can one favor go…

Logan McCade arrives at his best friend's wedding overworked and in desperate need of a vacation, only to discover his best man duties have been…expanded. He must coax Colton's sister out of her shell, or risk her hiding in her room all week. Logan figures he can handle one introverted bridesmaid, but he's not expecting how much he enjoys "handling" Sophie…or how much she enjoys being handled. 

Socializing has never been web designer Sophie Brooks's strong suit, but she's determined to shed her wallflower image and embrace the "New Sophie"—a feat made easier with the supremely sexy Logan McCade tempting her to explore all her forbidden fantasies. If she's not careful, she just might fall for the best man.

Sophie's sweet, sexy, and delectably awkward demeanor brings much-needed calm to Logan's hectic life. With the nuptials only days away, Logan is forced to face the possibility that his favor to a friend might have become something else entirely…and that he's not willing to let Sophie go. Ever.


I didn't want to read it! I wanted to soooo very badly…but I didn't all at the same time! It's just not fair I tell you! Seriously…this series just CANNOT be over! I am addicted! The Wedding Dare series was an absolute thrill to read and I am devastated that I don't get to learn even more about these amazing characters. I am so not ready to say good-bye to them! I have been dying to read about the shy Sophie and sexy Logan ever since the first book..I'm pretty sure I even mentioned them in a review or two…this book just had soooo much to live up to! I mean come on…the last one in the series? Samanthe had her work cut out and a lot of expectations to live up to…no one can live up to all that right???

WRONG!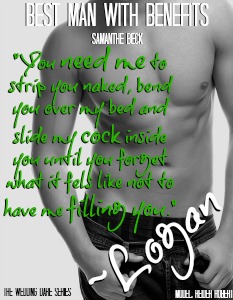 Samanthe Beck stood up and proved me wrong! This book was all I had hoped for and more! It left me laughing, crying, cringing, clapping and laughing! I have never felt more connected to a character in my life! I could totally relate to Sophie…never feeling good enough, always carrying around an extra 20 lbs no matter how much you have lost or how good everyone says you look, self-confidence is no where to be seen…there is just so much that is REAL about Sophie that it was impossible not to put myself in her shoes as I was reading.

Then there was Logan….wow…Logan…yeah just umm…ahh…what was I saying? Sorry I nodded off into dream land where sexy mountain climbing business owners with sexy ass six packs have a thing for the shy girl! (Yeah dream land right loL)

Poor Logan is in a place in his life that has to be difficult. His friends and family helped him financially start his business, now he feels like if he steps down from any of the duties of running the business (which is a lot bigger than it used to be) he will be letting them down. Little does he know that going to his friends wedding and agreeing to be best man will help him gain the outlook on life that he needs in order to be happy.

I bet when Colt asked Logan to watch after his baby sister he never once thought he would end up having this kind of a time! Sophie has had a crush on Logan for … well forever and sparks totally fly when the shy girl steps out of that shell for the man she wants! Goodness…that first morning scene…I don't think I would have had the balls to do what she did! I can imagine that definitely helped change Logan's perspective of her as the "baby sister" lol.

I really enjoyed this story. The characters (which we have gotten to know a little in the past few books) are well developed, the story and romance flow realistically, and it wasn't so filled with drama that I felt like I was going to throw my precious Kindle at the wall. I will say that I was a bit worried about getting bored with the story, the best friends little sister story has been done…A LOT! Heck, it was even done in this series already! I was so wrong! The way that Samanthe pulled this one off is just precious and mind blowing! I mean who would have seen that Tie/belt scene coming???

OH my gosh! Speaking of that scene…how sweet is Logan! Finding a way to help Sophie realize that she is beautiful! Just…AAAWWWEEE!! I'm pretty sure I fell in love with Logan at that exact moment!

There were so many scenes in this book that just had my laughing and blushing right along side poor, shy Sophie! Those conference calls…wow…umm..best conference calls ever! I still can't believe how she handled that second one! Goodness…that was just awesome!

Now…as for the ending of the book…yes, we all know it had to end somewhere and after reading the others in the series I had a feeling where things were headed (sooo didn't ruin it for me though lol). I adore that all of the characters end up back together (although I have never seen a hospital that will allow quite that many people free range during the delivery but what ever! lol). It was an awesome way of giving quick final updates on each of the couples and I definitely found myself bawling like a baby! It was all just so sweet and perfect and well I loved it!

Overall the series has been wonderful and I adore the mind-blowing way these amazing ladies managed to pull together such an awesome story! I can't get over how well they pulled it off! It is an unforgettable story that, having the chance to read from each and every character's perspective, I feel like I was a part of and am very sad that I won't be reading more from them. 

So, to put things simply… If you haven't read this series yet…what on Earth are you waiting for?!? Hop on over to what ever place you buy your books and get to it! They aren't expensive and they totally rock! No seriously…LIKE NOW … GO BUY THEM RIGHT NOW!!
Check out the other books in the series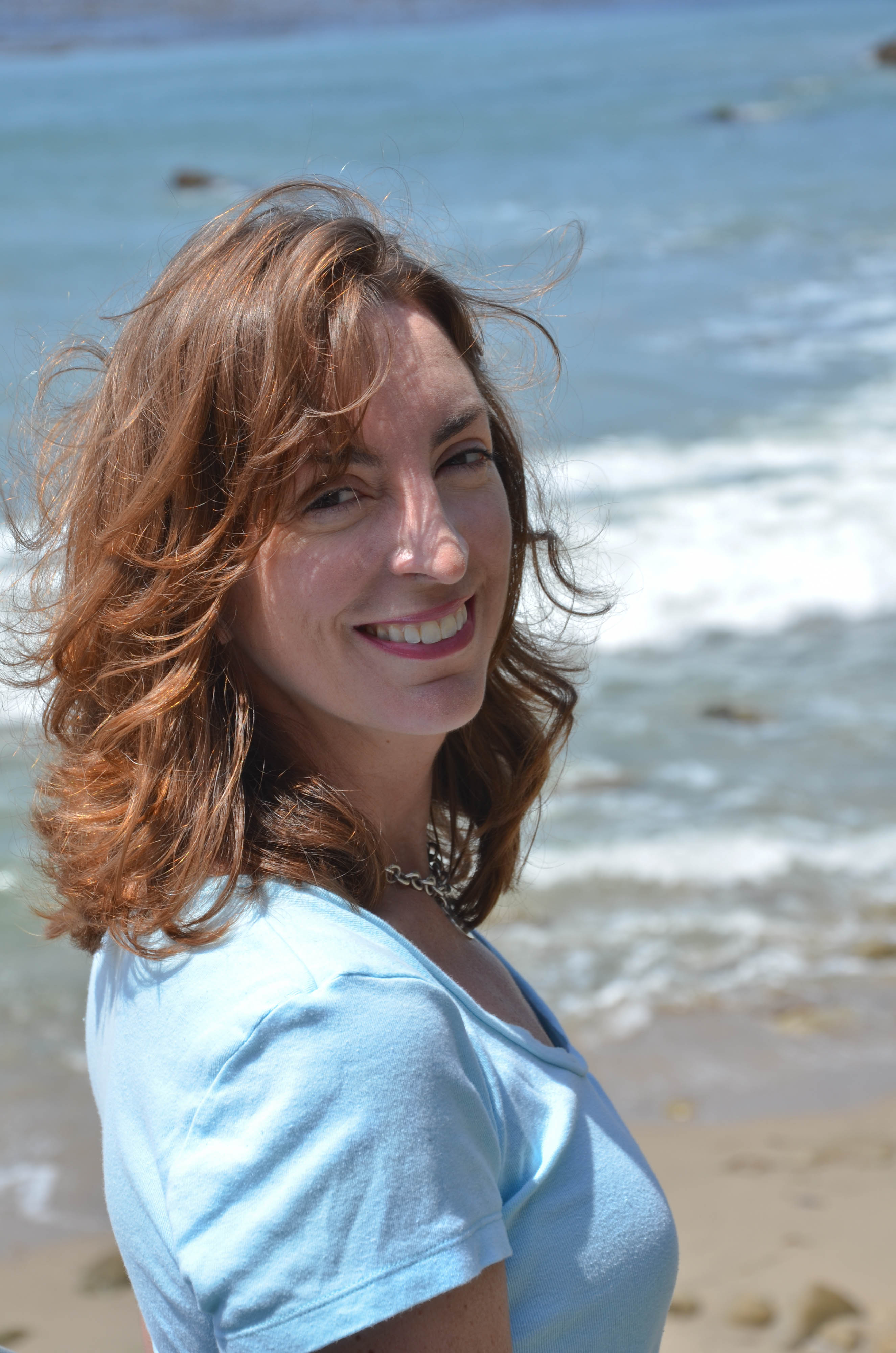 Wine lover, sleep coveter, and USA Today bestselling author Samanthe Beck lives in Malibu, California with her husband, their son, Kitty the furry Ninja, and Bebe the trash talkin' Chihuahua. When not writing fun, fan-your-cheeks sexy contemporary romances, she searches for the perfect cabernet to pair with Ambien.
Connect with Sam via Facebook, Twitter, or through her website!

Describe your book/series in 15 words or less!
Oooh, kicking things off with a toughie! This is a bit over the word count, (as I always am): Logan McCade agrees to expand his best man duties to include keeping an eye on the groom's shy, adorable, strictly-off-limits little sister, Sophie Brooks, but soon realizes he wants to keep way more than his eye on her…
When did you start writing? How did you come up with your books name?
We started the Wedding Dare series in…gosh…last summer. (Time flies when you're having fun. Or drinking. Or both). My working titles for my books usually don't stick, but "Best Man with Benefits" was the original title for this story. I think my editor liked it better than my back-up title "Banging the Bridesmaid." 😉
We all need a hero! Tell us about your protagonist(s)? Was there a real-life inspiration behind him or her?
To outsiders looking in, Logan is Mr. Perfect. He's smart, successful, good looking, and confident, but, inside he's frustrated and frazzled. The business he founded and runs is sucking him dry, yet can't bring himself to let go of any portion of his responsibilities. He's his own worst enemy!
I wouldn't say Logan had a real-life inspiration, but his passion, aside from Sophie, is rock climbing, and I did some pretty in-depth research involving pictures of sweaty, shirtless, muscular guys hanging from rocks.   
What is something about yourself that most of your readers don't know?
I once waited in line at the ATM behind Julia Roberts. I couldn't help thinking that although we got cash from the exact same ATM, we had vastly different experiences.
How do you spend your time when you aren't writing?
Drinking. Sleeping. Trying to convince my husband to go buy me wine while I take a nap. Playing Candy Crush with my five-year-old son.
What do you find most challenging about being an author?
All the in-depth research involving pictures of sweaty, shirtless, muscular guys hanging from rocks! Seriously, I'm not going to complain about any aspect of being an author. This shit is thoroughly good.
What do you find most rewarding about being an author?
Having a legitimate excuse to conduct in-depth research involving pictures of sweaty, shirtless, muscular guys hanging from rocks, (are we sensing a trend here)? Joking aside, I am always incredibly touched, grateful, rewarded when someone tells me they read and enjoyed something I wrote.
What book are you most proud of so far?
I can't choose! I love them all for different reasons, (i.e. Tyler, Trevor, Ian, Michael, Logan…)
I so need to get my hands on more of your books! 
What are two of your favorite characters in your books/series written by other authors?
I can't choose! I love them all for different reasons, (i.e. Tyler, Reed, Brock…)
Was there a music playlist for you while writing? If so can you share a few songs from it?
I was going through a Brandi Carlile stage—and if you haven't, you really should—so I was listening to "The Story," "Turpentine," "That Wasn't Me." I don't know that these songs particularly relate to Logan and Sophie, but I find her voice and the lyrics inspirational.
​What's next for you?​
I think I'm headed back to Bluelick, KY for a couple follow-ons to my first Brazen, "Private Practice.
Now for the silly stuff!
Ask me one question…any question at all and I have to answer it no matter what!
You are trapped in an elevator with David Gandy, Ian Somerhalder and Gerard Butler. What do you do?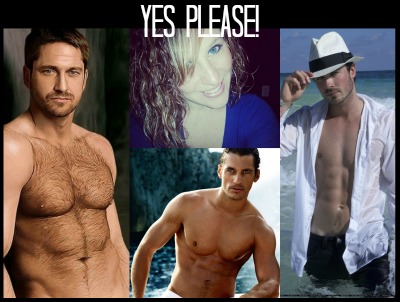 I LIKE how your mind works! Hahahahahahahahahaha ummm my first thought was so not PG!! Let's see…what would I do…well I can think of 4 things really, the first of which may involve making sure that elevator stays broken for a VERY long time! 2-4 involve many different things…I may just like being the center of attention hahaha *Blushing now!* I'm not going to go into details here…but I'm sure your imagination can come up with a few ideas 😀
If you could have any one toy what would it be? Why?
Probably Legos, because you can make a lot of different things. I can't, but, you know, in theory…
If you could have one super power what would it be? Why?
The power to hypnotize hot men into doing anything I ask, because…well…do I really need to explain?
What would I find in your refrigerator right now?
I don't know, but now that you mention it, I am hungry. Hold on. Okay, I'm back. You would find a canister of Reddi-wip and a quarter of a bottle of BV Coastal Estates Pinot Noir.
Soo…I'll be by your house soon for the wine! I may even bring some of my own!!
If your book/series was a dessert, what would it be and why?
The Wedding Dare series would be a box of chocolates, because there's something there for everyone.
What do you think about when you are alone in your car?
I contemplate the universals questions, such as Taco Bell or Jack n' the Box?
What song best describes you? Why?
"Drunk in Love," because I like to think of my husband, Charles, and I as the white, middle-aged Jay Z and Beyonce. We are so not, but it's what I like to think. 😉

Enter the giveaway and be sure to check out the rest of the books in this series!