Title: Baiting the Maid of Honor
Author: Tessa Bailey
Series: The Wedding Dare
Published by: Entangled Brazen
Date published: June 9, 2014
Genres: Contemporary Romance & Humor
Book Length: 150 pages
Steam Rating: Risque
Main Characters: Reed Lawson & Julie
Buy on Amazon
"The dialog was addictive and humorous without taking away from the deep meaning and romance of the story." ~Becca

He'll own her from the very first touch.

Julie Piper and Reed Lawson have nothing in common. She's a people-pleasing sorority girl hiding behind her perfect mask. He's a take-no-prisoners SWAT commander who isolates himself from the world. But when they're forced together at their friends' posh destination wedding, one thing is clear—Reed wants Julie more than he wants his next breath. Which is why he's not about to stand by when she's dared to seduce another man. 

Julie wants neat, tidy sex, so she could get back to what she does best—making everybody else happy. She never expected to slip into a dark bedroom and have her mind blown by rough, demanding hands, and a sinfully filthy mouth—neither of which belong to the best man.

One night should have been all Reed needed to get the blond temptress out of his system, but when one taste is nowhere near enough, he'll be forced confront the effects of his hellish past. One that may push Julie away forever… just when he realizes he can't live without her.


After having read The Wedding Dare and Falling for the Groomsman, I was super excited to get started on Baiting the Maid of Honor! Let me start by saying that I was not disappointed!!
This was my first Tessa Bailey book and I wasn't really sure what to expect. The Wedding Dare series is an amazing continuity (I just learned this word hehe it means: stories by different authors that take place at the same time) that keeps the reader wanting to grab on to the next book and learn more! I know that these 3 books have me dying to get my hands on the last two! I am drooling at the mouth to find out what happens with Sophie!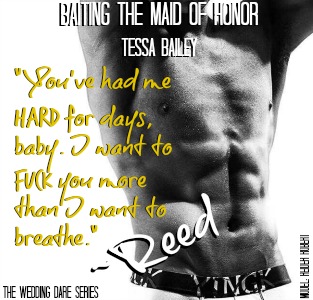 I often found myself thinking "is this how it happened in the other book" when I came up to a scene where multiple characters are taking part. In all the cases that I took the time to check…it was pretty dang close to word for word! I am very surprised by the amount of skill these women show by taking the same scene and showing it from someone else's perspective without messing up the scene in any way.

Okay, so on to this book!

Julie is am uptight southern belle that really needs to let loose. Reed…mmm…Reed…yes Reed…he is, well he is a sexy as sin SWAT commander that likes things a little rough. I definitely fell in love with Reed and Julie quickly. The mixture of Julie's uptight good-two-shoe-ness and Reed's tortured commanding way is just explosive!

The dialog was addictive and humorous without taking away from the deep meaning and romance of the story. I loved the back story that we get and learning what makes these two tick. It was interesting to watch as they let themselves show their true self to one another…even when they didn't mean to.

The sex scenes in this book are to die for! Oh my gosh…let's just say that Julie's secret classes are paying off for sure! I adore the way that Tessa writes. It is so easy to fall in to and find myself obsessed with the characters and not able to put it down! I can't think of one single thing that I didn't love about this book! The characters are deep and relatable, the story line flows well and keeps you wanting more, the romance moved along in a realistic way and the chemistry and erotic scenes are just perfection!

Just like with the last two books in this series, this one left me excited and begging for more! Back to my quiet corner to read book 3!!
Check out the other books in the series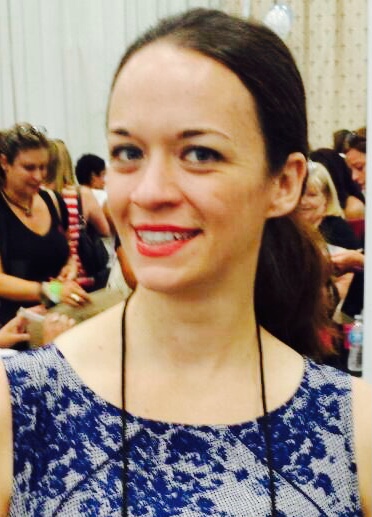 Thank you for your interest in my books! I'm Tessa and I live in the crazy, loud, overcrowded borough of Brooklyn, New York. I love it here. This city is a constant source of inspiration, which is why I've decided to set my most recent books in the Line of Duty Series here. 
I moved to New York when I was eighteen, the day after I graduated high school. Threw my suitcase in the back of a Chevrolet Cavalier and drove across the country to find my adventure. I'm still finding it, little by little.
Thank you for being a part of it. 

We all need a hero! Tell us about your protagonist(s)? Was there a real-life inspiration behind him or her?
Reed Lawson is a complicated guy. He's had a rough past, growing up on the wrong side of the tracks in rural Tennessee. He is a former hell-raiser, but one eye-opening experience turned it all around for him. Now, he commands a SWAT team in Atlanta, but the remnants of the past have never loosened their hold on him. So when he meets Julie, a sunshiney people-pleaser, he wants to run in the opposite direction, but can't. She hooks him from the second they meet. There is no real-life inspiration for Reed, though. He lives in a magical fantasy world in my head, populated by broody, sexy, mega-hotties.
Was there a music playlist for you while writing? If so can you share a few songs from it?
This time around, I listened to a lot of HAIM. There is one scene in the book where Julie performs a strip tease for Reed and the beat in "My Song 5" nails the mood I was going for.
What book are you most proud of so far?
I'm really proud of this continuity! For five incredibly busy women to put so much effort into a project, we had to be super meticulous and focused on the details. It took a lot of time and effort to match up everything in each book. If one person would have dropped the ball, it wouldn't have turned out so well. Good thing that never happened once!

If you could have one super power what would it be? Why?
My super power would be to clean my house with the wave of a hand. Who has time to clean?? Also, I wouldn't mind a super power that allowed me to see every man as their inner hunky cover model. Just walk down the street and be swimming in a sea of sexy 😉 I'd keep my husband the way he is, though. He's perfect.
What would I find in your refrigerator right now?
My two biggest staples are peanut butter and hummus. If I don't have both at all times, I consider my fridge empty. I eat a jar of peanut butter per week and go through withdrawals if I don't have it.
If your book/series was a dessert, what would it be and why?
Red velvet cake, because it's deliciously decadent!

Enter the giveaway and be sure to check out the rest of the books in this series!