Title: Kissing Santa
Author: Kylie Gilmore
Series: Clover Park
Published by: Extra Fancy Books
Date published: Oct. 3, 2014
Genres: Contemporary
Book Length: 131 pages
Steam Rating: Steamy
Main Characters: Rico & Samantha
Buy on Amazon
"This book left me laughing, crying, cringing and just about ready to throw my kindle at character's heads! Needless to say…I LOVED EVERY SECOND OF IT!" ~Becca

Each book in the Clover Park Series can be read as a stand-alone novel, or for more fun read them in order. Characters you've loved from past books frequently pop up in other books.
Samantha Dixon is about to confess her most secret, romantic Christmas wish to Santa. Heck, what's she got to lose with her disastrous romantic history? Like that player from her horrible blind date last week arranged by her mother. Only guess who's Santa?
Rico del Toro loves women. So one bad date with the beautiful Samantha in a string of many, ahem, successful evenings is no big deal. But when a friendly favor playing Santa unexpectedly lands Samantha on his lap for a romantic confessional, he's intrigued. He's never heard a woman open her heart like that before.
But if this Santa wants a second chance, he'll have to rethink his womanizing ways and convince her that he is the perfect package.

I've liked all of the Clover Park books, there is just something so natural about Kylie's writing style that leaves me ready for more. I have to say that I believe Kissing Santa has been my favorite of them all!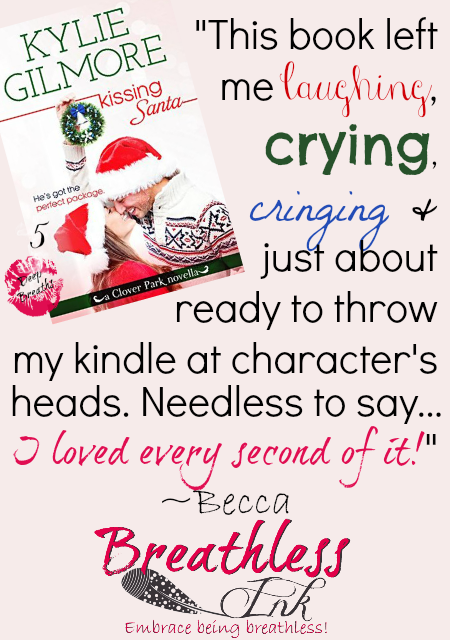 This book left me laughing, crying, cringing and just about ready to throw my kindle at character's heads!
Needless to say…I LOVED EVERY SECOND OF IT!
Samantha isn't having the best of luck with love…or so says her pushy mother! So of course her mom sets her up on a date…with none other than the player of all players!
Poor, poor Rico…
He sure isn't your typical romance novel hero huh?
He has no freaking clue what he is doing! One second he is happy with his player ways and then his mom guilt trips him into going on this blind date…but she wasn't at all what he was expecting! Once he meets Samantha he decides that maybe, just maybe, he should change his ways and try to be exactly what she wants!
After screwing up MASSIVELY (I won't tell you how…but just know that I was amazed at his stupidity on this one…) on the first date, Rico lucks out and ends up with none other than Samantha sitting on his lap (while dressed as Santa of course) blurting out exactly what she is looking for!
Rico's poorly executed attempts at romance are hilarious and sweet. I mean come on…what man does that?
(Not sure what I'm talking about…go buy the book
…read a few chapters then come back!! I'll wait right here…..
la..lala…lalalala….la…lala…lalalalala (picture elevator music or some such…)
Back?? Yep…see what I mean about the mailbox and such?? Uh huh! Who does that????)
Okay so now that we are back and I'm off my ramble…where was I?
Oh yeah, my adoration for Rico and his romantic attempts to woo Samantha. Hehe…Rico is such a sweet guy. He seriously puts forth more effort in this book than I have seen in a romance in a very long time!

Kylie's writing style is just as awesome as the other 2 books! The characters are well developed, especially for a novella. The romance flows amazingly well and the humor mixed in is just perfect! I couldn't have asked for more!
I am so very happy that I read this book and cannot get over how quickly I fell in love with Rico! I honestly wish that this was a full length novel instead of a novella. I could have kept reading his crazy antics forever!
So head on over to Amazon and pick up your copy! You won't be disappointed!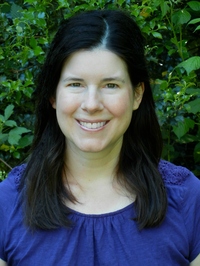 Kylie Gilmore was lucky enough to discover romance novels at a young age as they were strewn all over the house (thanks, Mom!). She writes quirky, tender romance with a solid dose of humor. Her Clover Park series features the O'Hare brothers, three guys you'd definitely have a drink with and maybe a little more. The Clover Park STUDS series unleashes three adorable studs into the world—Barry, Dave, and Will. Look out, ladies!
Kylie lives in New York with her family, two cats, and a nutso dog. When she's not writing, wrangling kids, or dutifully taking notes at writing conferences, you can find her flexing her muscles all the way to the high cabinet for her secret chocolate stash.
Find out more about Kylie and upcoming books at www.kyliegilmore.com. Sign up for my newsletter to hear about new releases, exclusive excerpts, and subscriber-only giveaways.
How would you react if you realized that the Santa you just confessed your dreams to was the same player you ran from the night before?