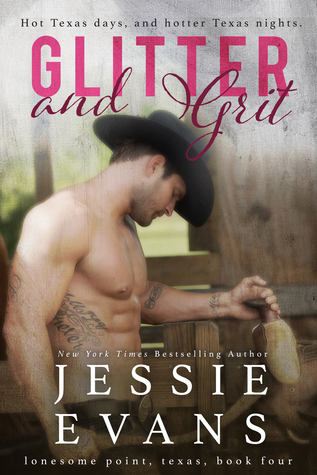 Title: Glitter and Grit
Author: Jessie Evans
Series: Lonesome Point Texas
Published by: Self Taught Ninja
Date published: Dec. 18, 2014
Genres: Contemporary
Book Length: 277 pages
Steam Rating: Steamy
Main Characters: Reece & Grayson
Buy on Amazon
"Jessie's writing style drags me in. Make me feel like a part of the story. Each and every page feeds my addiction to the town and the people living there. With every new book, I find myself feeling that I know these people. That if I just drove around enough I could find this small town that I have slowly…okay maybe extremely quickly….fallen in love with!" ~Becca

This ride is going to last a lot longer than eight seconds…
Female professional bull rider, Reece Hearst, graduated from the school of hard knocks. With honors. Because life is like bull riding—when it sends you to the dirt, you do whatever it takes to get on your feet, even if you have to crawl. Like when officials stripped her of her rodeo queen title on the basis of vicious gossip years ago and not even her father would believe her side of the story. Reece could have stayed in the dust, wallowing. Instead, she fixed Lonesome Point in her rearview, joined the pro circuit, and never looked back. But now a serious injury threatens to end her career and she's back in Lonesome Point, living next door to the family that once made her life a living hell.
After multiple tours of duty in Afghanistan and his father's death, all Grayson Parker wants is to get his family's cattle business back in the black and live a quiet life. But the return of Reece Hearst opens old wounds, throwing his ordered world into chaos. Grayson was serving overseas when Reece was a teenager and can't believe the girl he once knew has grown into a heartbreaker as hardened as she is beautiful.
Grayson finds a kindred spirit in wounded Reece and soon longs to be the man to show her that there is life after pain and loss. But can two people as damaged as Reece and Grayson find their way to happily ever after? Or will the scars on their hearts forever keep them apart?

Alright…so we all know that I am happily addicted to Jessie Evans and her Lonesome Point series….well here is the newest addition!
Every single time Jessie puts out a new book my heart starts to sputter and my mind goes all wonky…I just KNOW that this one is going to be the one that breaks the 5 star streak…I mean how many books in a row can an author write that leave me begging for more?!?
Well apparently Jessie managed yet another one!
Dang it Jessie…you're killing me over here! Every time I think I have a favorite book…a favorite couple…you go and throw more awesome at me and I get even more confused than before!
Reece and Grayson are both pretty amazing characters. They may or may not be my favorite…heck at this point I think I'm just going to stop trying to figure that part out!
Each and every book in the Lonesome Point series has something that hooks me…makes me want more. And each and every time I say that I have a new favorite…but then if I go back and reread one of the older ones…well yeah you guessed it…that one is my fave all over again!
Glitter and Grit has a ton of twists and turns that left me breathless and confused. I couldn't believe some of the things that popped up during this one!
The characters are beautifully written and so realistic. Watching as Reece and Grayson fight something that is out of their hands in order to give in to the extreme attraction that they have for one another is priceless. Watching as they grow even closer with each new development left me in tears. There is just something about the Lonesome Point series that always gets me super emotional from page one til the very end.
Jessie's writing style drags me in. Make me feel like a part of the story. Each and every page feeds my addiction to the town and the people living there. With every new book, I find myself feeling that I know these people. That if I just drove around enough I could find this small town that I have slowly…okay maybe extremely quickly….fallen in love with!
As with every other Jessie review I've written…I simply cannot wait to get my hands on the next book!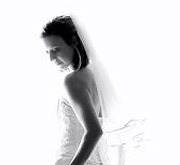 New York Times and USA Today bestselling author, Jessie Evans, gave up a career as an international woman of mystery to write the sexy, contemporary romances she loves to read.
She's married to the man of her dreams, and together they're raising a few adorable, mischievous children in a cottage in the jungle. She grew up in rural Arkansas, spending summers running wild, being chewed by chiggers, and now appreciates her home in a chigger-free part of the world even more.
When she's not writing, Jessie enjoys playing her dulcimer (badly), sewing the worlds ugliest quilts to give to her friends, going for bike rides with her house full of boys, and drifting in and out on the waves, feeling thankful for sun, surf, and lovely people to share them with.
Connect with Jessie Evans
Website | Twitter | Facebook | Goodreads | Newsletter
How can one author manage to write so many addictively amazing books?!?!