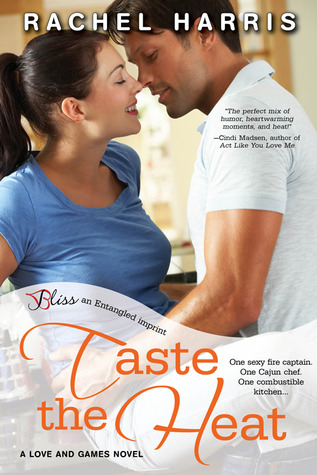 Title: Taste the Heat
Author: Rachel Harris

Series: Love & Games
Published by: Entangled: Bliss
Date published: July 8, 2013
Genres: Contemporary Romance, Romantic Comdey
Book Length: 194 pages
Steam Rating: Sweet/Steamy
Main Characters: Colby Robicheaux & Jason Landry
Buy on Amazon
"Rachel writes in a manner that drags the reader in, whether they like it or not, and makes them a part of the story. She manages to mix steamy (behind closed doors) romance with light humor that keeps you biting your lip and hoping that door has a window!" ~Becca

One sexy fire captain. One Cajun chef. One combustible kitchen…
When chef Colby Robicheaux returned home to New Orleans to save her family restaurant, the last person she expected to reconnect with was her brother's best friend and her childhood crush. As tempting as a sugar-coated beignet, Jason is one dish she can't afford to taste. Colby can't wait to leave the place where her distrust of love and commitment originated and go back to Vegas.
Fire captain Jason Landry isn't looking for love, either. Disillusioned by his past, he knows he should be focusing on finding the perfect mother for his daughter. But when he first sees Colby, all grown up and gorgeous, he can't help but be drawn to her. And when she suggests a no-strings-attached fling, Jason can't say no.
As their relationship grows more intense, Colby finds that Jason isn't as easy to leave behind as she thought. Could turning up the heat on something real be worth the possibility of getting burned?

Taste the Heat is another "falling for my brother's best friend" book, however Rachel Harris manages to do it in a way that makes me want more! 
This is the third book written by Rachel Harris that I have read (I may have kind of read this series in reverse…oopsy?) and I have to say that I believe she has spoiled me! Rachel writes in a manner that drags the reader in, whether they like it or not, and makes them a part of the story. She manages to mix steamy (behind closed doors) romance with light humor that keeps you biting your lip and hoping that door has a window! I can honestly say, from the bottom of my Southern heart, this series has become my absolute favorite and I can't recommend it enough!
In Taste the Heat, Colby, a big time chef in Las Vega, has to return home to help out her family restaurant. She has avoided home with a passion due to some not so great things in the past, but now she is forced to face her "demons". I loved the family aspect to this book (Heck the whole series!),even though the very last thing that Colby wants is to be back home, she is willing to do whatever it takes for her family. When Colby runs into her brother's sexy as sin best friend, things start to get H.O.T!
Jason Landry *SIGH* faint, swoon, a case of the vapors….whatever word you want to use…well it probably fits! This man is sex on a stick and dreamy! He is a firefighter, a awesome father and an over all good ol' southern boy! Jason knows that his wife was his one true love and could never imagine finding love again….letting someone else that close is just too much. So when his best friends sexy little sister offers up a summer fling with no strings attached….it seems like the perfect solution!
I ADORE little Emma, Jason's 11 year old daughter. She is a little firecracker! She sees that dad is unhappy and is willing to do pretty much anything to help him move on. Of course, it doesn't hurt that he seems to be interested in the most awesome Chef ever…and Emma's idol!  Emma is quite the little match maker and knows that Colby can't say no to her easily, so she goes out of her way to invite Colby to family functions and tries to make sure that she feels like a member of the family. 
Watching Colby bond with Emma while trying not to get too close to the widowed Jason is a tear jerker if I've ever read one. This book is an epic love story! While Jason and Colby aren't looking for love it was definitely looking for them! The chemistry between these two is electric and you just know this is bound to be an amazing relationship! No spoilers here…but let me just say…AWWWWEEEE that ending was precious, yet again a Rachel Harris book left me bawling my eyes out…in a totally good way!
Check out the other books in the series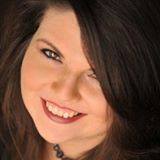 Award-winning and best-selling author Rachel Harris writes humorous love stories about sassy girls next door and the hot guys that make them swoon. Emotion, vibrant settings, and strong relationships are a staple in each of her books…and kissing. Lots of kissing.
An admitted Diet Mountain Dew addict and homeschool mom, she gets through each day by laughing at herself, hugging her kids, and watching way too much Food Network with her husband. She writes young adult, new adult, and adult romance, and LOVES talking with readers.
Website     Facebook     Twitter     Tumblr     GoodReads     Instagram
Be sure to comment below to let us know your favorite parts and as always show us some love and SHARE,  SHARE, SHARE!