Author: S.T. Bende

Series: The Elsker Saga

Published by: S.T. Bende
Date published: May 29, 2014

Genres: Paranormal New Adult

Steam Rating: Sweet

Main Characters: Ull Myhr and Kristia Tostenson
Buy on Amazon
 "And like a fairytale Prince Charming, Ull Myhr had me believing again in Happily Ever After."

You don't win the heart of an immortal assassin without making a few enemies along the way. Kristia Tostenson prefers Earl Grey to Grey Goose and book clubs to nightclubs, but when she transfers from her one-stoplight town to Cardiff University in Wales she falls in love with Ull Myhr. Her new boyfriend isn't exactly what she was expecting. Hes an honest to goodness Norse God–an immortal assassin fated to die at Ragnarok, the battle destined to destroy Asgard and Earth. Kristia's crazy visions are the only thing that can save their realms.
Her orderly life just got very messy.

Ull had me at Hei Hei
S.T. Bende's spin on the often-overlooked Norse Mythology genre was sweet and quick to read. As an English teacher, I've spent years teaching the Greek traditions and was not as familiar with Norse until S.T. Bende came along. That said, the Avengers and of course—Thor, have quickly become regulars on movie night in my house.
As Elsker begins, we're introduced to college student Kristia Tostenson. With her psychic visions of a not so exciting future, she dreams of a new start. Not interested in becoming a crazy cat lady, she decides at the urging of her best friend Ardis to apply for a study abroad program, choosing Cardiff University in Whales. This begins her journey to the U.K. where she immediately comes face to face with her destiny. And let me say, what a lucky girl she is!
Her first day in England she meets Ull Myhr, a beautifully mysterious man everyone wants to get to know better including Kristia (did I mention he's H.O.T.?). After a few weeks of Ull trying to resist getting involved (mostly to avoid involving her in his fate—isn't he sweet?), he eventually caves thus beginning their whirlwind romance.
Things develop quickly for the two. While attending a mythology class together the pieces to his identity puzzle unravel. Despite the fact that their romance is short and sweet, it works well enough mostly because as Tur alludes, they were destined for each other. Ultimately, Ull accepts his fate; that he is meant to be with Kristia just as he accepts the prophecy that he is destined to die in the Ragnarok battle that has been hanging over his head for eternity.
Though not as much action as Tur, Elsker moved along quickly. The relationship between Kristia and Ull wasn't instant love, but sparks flew from the beginning. I wasn't as put off with how quickly the relationship moved either. Kristia's lack of experience in relationships explained this, as did their prophesied destiny. The only thing that was a bit too rushed for me was her acceptance of his identity. She didn't seem to struggle long, accepting Ull as a god from Asgard but considering Ull, who cares, right?! I LOVED him.
Although not considered a steamy romance, there was still plenty of steamy anticipation in Elsker to keep me turning pages. Though most new adult readers have certain 'sexpectations' in the genre, I don't feel there is a need in every story and that is certainly the case for Elsker. The vivid scenes were hopelessly romantic between Kristia and Ull, making them totally swoon-worthy. Just check out the teaser below of their sexy make-out session in the castle!
Overall, Elsker was an adorably sweet romance that had me blushing from page one. The boys are hot, the girls are fun and even without sex, it was steamy in it's own right as the anticipation kept me turning pages. And like a fairytale Prince Charming, Ull Myhr had me believing again in Happily Ever After.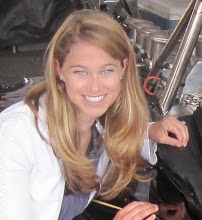 Before finding domestic bliss in suburbia, ST Bende lived in Manhattan Beach (became overly fond of Peet's Coffee) and Europe… where she became overly fond of McVities cookies. Her love of Scandinavian culture and a very patient Norwegian teacher inspired the books of The Elsker Saga (Tur, Elsker, Endre and Tro). She hopes her characters make you smile and that one day, pastries will be considered a health food.
Find ST on Twitter @stbende  or her blog, http://stbende.blogspot.com. While you're at it, introduce yourself to @UllMhyr. When he's not saving the cosmos from dark elves, he loves meeting new friends. Especially the human kind. I can attest to that!

"Are you sure you will be all right on the stairs?" Ull stood in the grand hall of Cardiff Castle, glancing at the four-inch, shiny death-traps Victoria called shoes. Since Ull's eyes practically bugged out of his face when he picked me up, I had no intention of changing into the emergency flats I'd stuck in my purse. Victoria had scored another hit.
"Probably not. Walk behind me in case I fall?"
"It would be my pleasure."
"On our right, the coats of arms," continued the tour guide. He'd been talking for a good five minutes and I couldn't remember a single word. That was because Ull had started stroking the small of my back when our tour began, and it took all my concentration just to stay upright.
"The castle is gorgeous." I admired the stonework as we made our way toward the stairs. There I shifted focus to my feet, staring at each step until I'd reached the top. "Made it."
"And I was so hoping I would get to catch you." Ull came up next to me and skimmed my hand with the pads of his fingers.
"Well, the night is young and these shoes are high. You may still get your chance."
"Tease." Ull kissed my palm.
"Um." I swayed on the heels and he chuckled.
"Come, Miss Tostenson. We are losing the group."
"Right."
We walked the long corridor framed with paintings. All of the history in these walls was kind of overwhelming. The castle was two thousand years old. The oldest thing we had back in Nehalem was probably the Homestead. Cardiff Castle had about eighteen hundred years on that farm.
"This place is huge," I whispered when we'd caught up to the tour. "I can't imagine living here. How could you ever get comfortable?"
"You get used to it," Ull shrugged. "Find little corners to make your own."
"How on earth could anyone get used to all of this?"
"When you are stuck in it every day it gets old. Trust me."
"Right." Like Ull was an authority on royal dwellings. "Living in a castle sounds sooo terrible."
"Depends on the day."
"What does that mean?"
"Just that these walls did more than keep people out — they kept people in, too."
I thought about my vision from Friday night — of Ull and me in a meadow by a castle. Huh.
"Where did you say your family lived, exactly?" I probed.
But Ull bristled. I'd hit a nerve. "Come Kristia, we have lost our group again." He gently pulled me down the hall.
"You may have noticed the Animal Wall in front of the Castle. Though William Burges designed the Wall in 1866, it was not constructed until 1890 — nine years after Burges's death." The guide lifted an eyebrow as we caught up. "Please do try to stay with the tour," he admonished before turning down another corridor. The rest of the group followed closely.
"Sorry." I ducked my head.
Ull raised a corner of his mouth in a smile. "Why, Kristia, you are blushing."
"And?" I lifted my chin, and took a step back so I stood against the wall.
"It is sweet." Ull paused and lifted a finger to my cheek. My knees buckled and he grabbed my arm to steady me. The touch sent shockwaves straight to my head, leaving me with the unnerving sensation of being underwater. I lost my bearings again and Ull wrapped both hands around my waist to stop my fall.
"Sorry," I mouthed. "Must be the shoes." I couldn't stop staring at his eyes. They almost looked nervous.
"Must be." He ran his finger along my jaw, stopping to grasp my chin between his thumb and forefinger. His eyes focused on my mouth and my heartbeat accelerated. He ran his thumb lightly over my lips. They parted under his touch. A wave of heat shot from my lower lip straight to my abdomen, creating a slow burn that wasn't altogether uncomfortable. I watched as his eyes slowly moved down then back up, lingering at the neckline of my dress. Victoria had been right about the push-up bra.
"Must be," I repeated.
Ull drew his eyes away from my cleavage and took a step closer. He leaned one forearm against the wall, leaving me enveloped between the cold stone and his warm chest. I was suddenly very dizzy.
"Kristia," he spoke in a whisper.
"Yes?" I whispered back. Ull was looking at me with an intensity I wasn't prepared for. He stepped in, closing the last inch between us.
"Look at me." He spoke again, lifting my chin so my lips were tilted towards his. If his body hadn't been pressed against mine, I would have collapsed in a heap that instant. Instead, I took a shaky breath as Ull dropped his head. He ran his nose along my jaw line, pausing when he reached my ear. He breathed in, the cool air sending a shiver down my neck. With painstaking slowness he drew his nose across my cheek until our lips were almost touching. Now when I looked into his eyes I saw something entirely different. He was strong. Confident. And very much in control.
I let out a small sigh and immediately he covered my mouth with his. It wasn't a gentle kiss — it was commanding, almost forceful. I melted against him as he claimed my lips, moved down my jaw to consume my neck. My insides throbbed. In that moment, I would have done absolutely anything he asked me to.
"Kristia," he whispered again.
"Mmm." It was the best I could muster by way of response.
"I think we need to stop."
In God's name, why?
"Will you be joining the rest of my tour, or shall I leave the two of you here?" The guide stood at the end of the corridor, literally tapping his foot. Oops.
Ull placed his hands around my waist to right me. I smoothed my hair and straightened my dress, my cheeks burning the whole time.
"Great timing," I muttered. Just when things were getting good.
"Do not worry Kristia." Ull winked. "We have all the time in the world."
I sure hoped so.

The lovely ST Bende is giving away one copy of EACH novel in this series! That means 1-Tur, 1-Elsker and 1-Endre, to be released mid-July!
Here is a sneak peak of the cover for the follow-up, Endre releasing later this month…