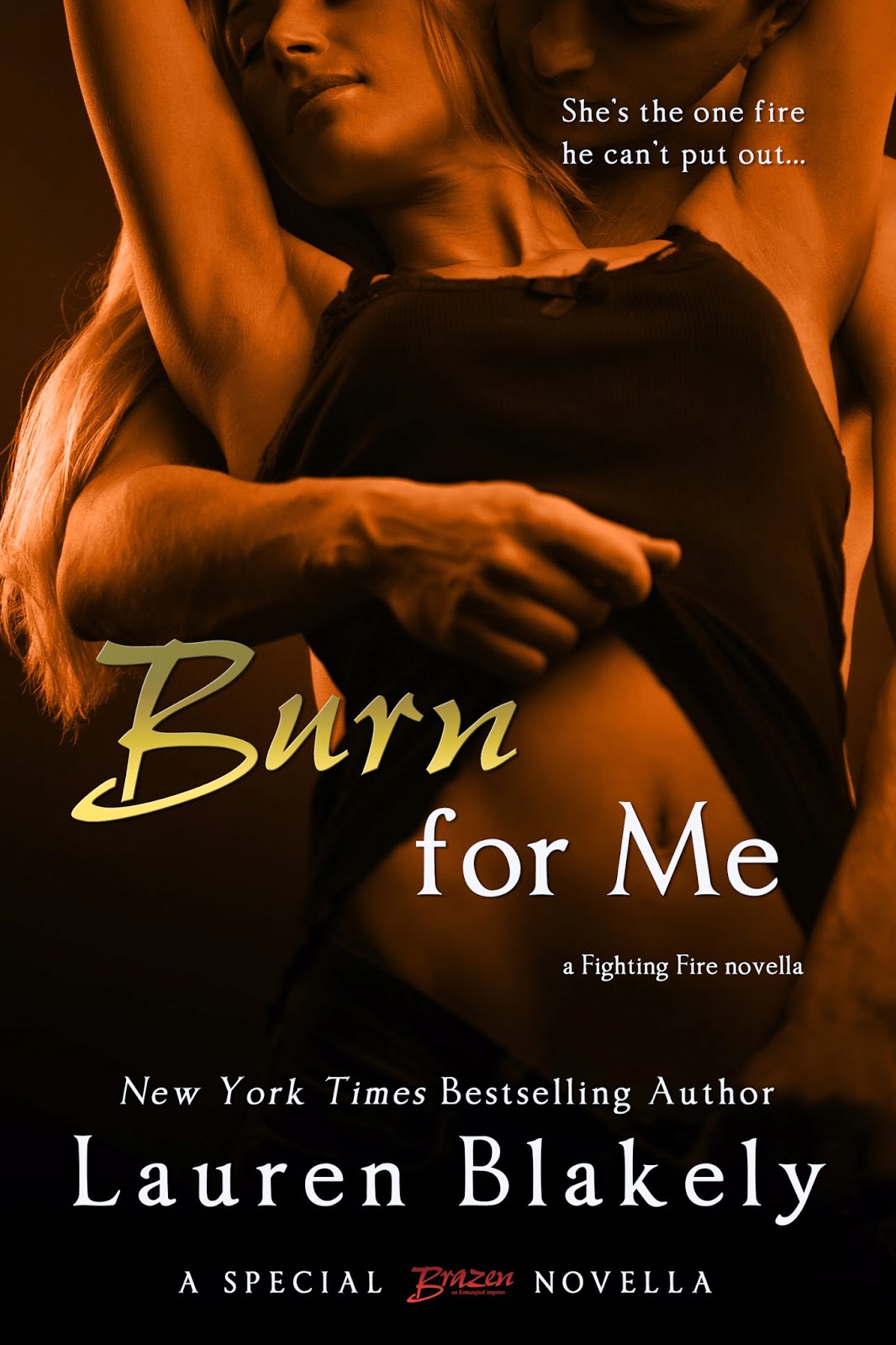 Title: Burn For Me
Author: Lauren Blakely

Published by: Entangled: Brazen
Series: Fighting Fire
Date published: June 9, 2014
Genres: Contemporary Romance
Steam Rating: Steamy
Book Length: 87 pages
Main Characters: Jamie Lansing and Smith Grayson
Buy on Amazon
"Holy moly! What a sex scene! Heck…all of them! My jaw dropped over a few scenes lol I mean really! Just wow! Yeah this book is a great example of when good girls go bad…maybe it's all the naughty books we read?!?" ~Becca

Burn For Me is a sexy category romance novella from Entangled's Brazen imprint… 
She's the one fire he can't put out…
Jamie Lansing has had it bad for firefighter Smith Grayson for as long as they've been friends. Yes, he's ridiculously charming and she might stare a little too long at his abs, but his dirty-talking, rough-around-the-edges ways aren't for her. Plus, she knows that as a serial dater, Smith isn't the type to settle down. But then a terrible, fantastic, mind-blowing mistake leaves her body craving more than one night.
Smith Grayson has only ever had eyes for one woman in town–his best friend Jamie. But convincing her a relationship between them will work is next to impossible with her refusing to see beyond his past. But when she asks for a week of no-strings-attached sex to get him out of her system, Smith knows this is his one chance to prove he's not just the man she needs in her bed, but the man she needs in her life.

How super sweet is this book?!? Yes, things move a bit quickly and I would have LOVED if the book were longer and the romance a little more drawn out…however even though it was a bit rush, cut and dry…it was still an amazing read! The amount of romance and chemistry that Lauren Blakely was able to fit into such a short novella was insane! I never would have thought that I would learn so much and become so attached to a couple so quickly.
Seriously, I could not help but giggle at the name of the bar! The Panting Dog! Hehe I ABSOLUTELY LOVE IT!
I still cannot get over the fact of how quickly the romance moved! After reading the synopsis, I sort of expected there to be a bit more of a struggle between the two over the decision of moving from friends to lovers….but that just didn't happen. I mean seriously…by 15% of the book I felt like I totally knew and understood the characters and felt like they should totally be together! What a way to write!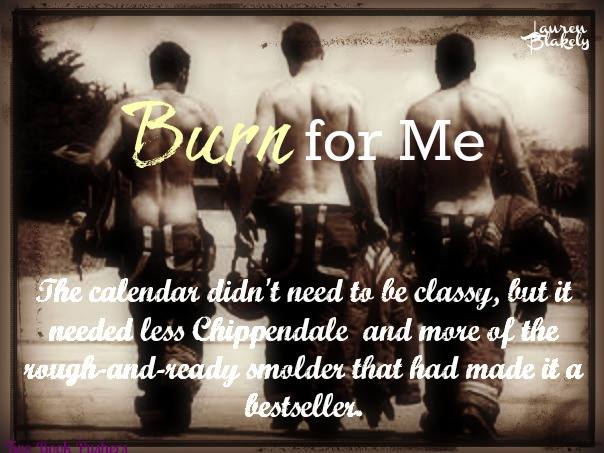 The plot line in Burn For Me is humorous and an easy pace to read. While the idea of falling for your best friend isn't exactly unique, it was written in a manner that kept me on my toes and wondering what was going to happen next. It was definitely what I would call a sweet romance with a few moments of rough and tumble.
As a couple Jamie and Smith had a lot of great moments. Thinking through their "love story" I keep finding myself coming back to one scene and I do believe my favorite quote from the book is…He wanted to "Bite her. Do bad things to her…" hmm…this may just get even more interesting really fast!
My first thoughts when Jamie and Smith come together were, Holy moly! What a sex scene! Heck…all of them had me blushing and glancing away to make sure no one was watching! My jaw dropped over a few scenes lol I mean really! Just wow! Yeah this book is a great example of when good girls go bad…maybe it's all the naughty books we read?!?
Overall, I thought this was a super sweet quick read! (I finished it in an hour and a half-ish.) I wish that the book had had a few surprises and struggles. The one "issue" that comes up in the book is solved EXTREMELY quickly…I guess I have just gotten so used to reading long novels and this just isn't one. I know that I had some pretty high expectations for this book…and it seriously came close to meeting them…it just keeps coming back to the length of the book. Things felt a bit rushed and underdeveloped. This story line and romance had SO MUCH potential…and some of it just didn't fulfill my expectations.
If you are looking for a quick read, rough and fun sex scenes, and characters that you quickly fall in love with…then this book is totally for you!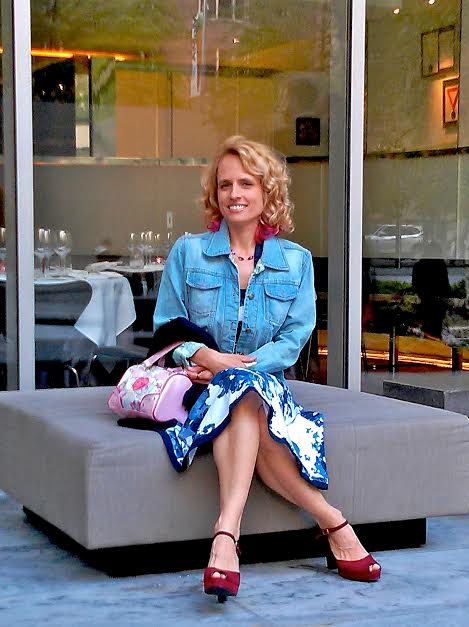 Lauren Blakely writes sexy contemporary romance novels with heat, heart, and humor, and her books have appeared on the New York Times, USA Today, Amazon, Barnes and Noble, and iBooks bestseller lists. Like the heroine in FAR TOO TEMPTING, she thinks life should be filled with family, laughter, and the kind of love that love songs promise. Lauren lives in California with her husband, children, and dogs. Her novels include Caught Up In Us, Pretending He's Mine, Playing With Her Heart, and Trophy Husband. She also writes for young adults under the name Daisy Whitney.
Website   Blog   Facebook   Twitter   BURN FOR ME Goodreads   Lauren Blakely Goodreads

Describe your book in 15 words or less!
Burn For Me is a super sexy story of two best friends who become lovers.
We all need a hero! Tell us about your protagonist?
To me, Smith is the consummate charming Southern man. He has that sexy drawl, that big smile, and that life of the party way about him. But he's not a player; he has a true heart of gold.
Who is your favorite character in the book? Why?
I love both Smith and Jamie! But if I had to choose, I'd pick Smith since he's just so delicious!
I have to 100% agree with you there! Smith is definitely steamy and smokin' hot! Seriously had me drooling on several occasions!
What was your favorite chapter (or part) to write and why?
My favorite chapter is the bookstore scene because that's when we learn about Smith's predilection for MadLibs and his volunteer work. And it's also the setting for some of his filthiest dirty talk with Jamie.
That was an awesome scene…although I have to say that when they spend a bit of time together after the party in the very beginning…that was pretty dang awesome as well!
How do you spend your time when you aren't writing?
I love to spend time with my family, to hunt out cute little coffee shops in the Bay Area, to play with my dogs, and to eat popcorn and watch a movie with my hubby! Reading is fun too!
Most of your books are Indie, what made you go with Entangled this time?
I think it's smart to be hybrid and to try new things. Entangled has done well with its Brazen line and I've enjoyed many Brazen books so I wanted to try it.
I LOVE the Brazen books! I have read quite a few of them and they very rarely disappoint!
Wow…the sex scenes in this book are H.O.T! Was it hard for you to write?
I like writing the sexy times, so the answer is no, no, no! They were fun to write and required that I fan myself a few times!
Haha, fan?? Girl I needed a cold shower after quite a bit of that book! It was fully of "sexy times" and they were all perfectly written! I love a book that is written in a way that makes me blush a little but not want to skim over the scene! You definitely found that perfect balance! MMM all that dirty talk…just dang girl!
I'm releasing ONE MORE NIGHT, a new novel in the Seductive Nights series starring Julia and Clay on

July 8th

, and in August I'm releasing Stars in Their Eyes in my Caught Up in Love series. In Sept, Entangled will likely release my next sexy firefighter novel.
Oh good gracious…you mean there are more of these!! Holy smokes…I may need my own firefighter if I read another one!
I have to throw in at least a few SILLY questions!
If you could have one super power what would it be?
I would like to apparate.
Who is your favorite "Book Boyfriend"? What series is it from and who wrote it?
Tyler from Private Practice by Samanthe Beck is pretty damn hot.

I haven't read that yet, I just found Samanthe Beck and fell in love! I'm sure I will get to this one soon!

Ten minutes later, he opened the door and Jamie stood on his porch, the moonlight illuminating her. The faint glow of the half-light made her even prettier, her blond hair streaming down her back and over her shoulders. He was about to make a wisecrack about late-night visitors, but she pressed her lips against his in the sweetest kiss anyone had ever given him. In seconds, she'd disarmed him, and a groan escaped his throat. She brushed her lips lightly against his, kissing so softly it was as if she were barely there. But that's what made her kiss so enticing; it was a promise of more. 
They stood like that kissing—only kissing—for minutes, and soon he threaded his hands into her hair, savoring the soft feel of the strands on his rough fingers. 
"Hi," he said when she broke the kiss. 
"Hi. I have a late-night delivery for you," she said, and trailed her hands down his shirt. His breath caught in his throat as her fingers danced across his stomach, and she smiled as she traced the outline of his abs. He grabbed her arms gently but firmly, and pulled her into the house.
"Whatever delivery you have for me I don't need the neighbors seeing," he said.
The door was swinging shut as she claimed his mouth again. She kissed harder this time, sliding her tongue across his, searching his mouth as she laced her fingers through his. It was as if she were claiming him, and he wanted that. 
"I'm sorry I was worried about Melody," she said as she pulled away.
 "Don't even think twice about it. I kind of like how you want me all to yourself," he said, running his finger along her cheek. 
"I do. And I want to do something for you."
 He quirked an eyebrow in question.
 "You've had a long shift. You work hard. And I want you to sleep well."
 "What do you have in mind?" he said, but whatever it was he was sure he'd like it, judging from the way hot tension started to roll through his veins, especially when she wedged herself between his legs, rubbing against his erection. He grabbed her hips, tugging her closer.
 She looped her hands around his waist. "You have the sexiest back," she said, and before he could respond, she'd dipped her hands below the waistband of his shorts, touching his bare ass. "Have I told you how much I love that you go commando?"
 "You have not. Feel free to tell me now."
 "It is so hot," she said, cupping his cheeks and squeezing. "You might have the best butt in the world."

Enter the giveaway, comment below and as always show us some love and SHARE,  SHARE, SHARE!