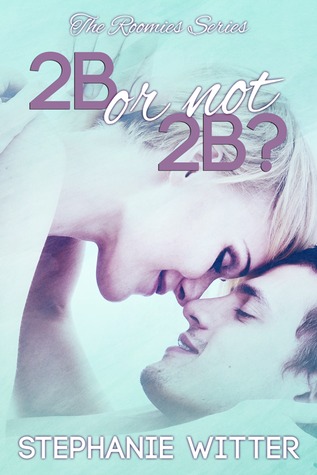 Title: 2B Or Not 2B
Author: Stephanie Witter
Series: Roomies

Published by: Anchor Group Publishing
Date published: June 24, 2014
Genres: Contemporary Romance
Book Length: 198 pages
Steam Rating: Steamy
Main Characters: London and Byron
Buy on Amazon
"The chemistry between these two is crazy from the start! The characters are addicting, easy to relate to and well developed."

In 2B Or Not 2B, London Reed is on the hunt for a place to live before the start of her second year in college. Either she is successful and can enjoy her student life without the pressure of her parents breathing down her neck, or she goes back home and clashes with her parents.
Because London doesn't have a filter.
"You're a weird one, aren't you?"
She basically tells it as she sees it. So when she meets the hunky and scarred guy who lives in apartment 2B, the last apartment on her exhausting list, she's sure to bring some crazy in his life.
But he's determined to not take a girl for a roommate.
"I have nothing against you, but I don't see this working for me."
London doesn't give up that easily and makes a deal with him. If she makes it for two months, she's in for the whole year. If not, then she leaves to never contact him again.
Easy, right? Not so much.
"You should have told me that you wanted me to be all over you."
When a guy and a girl live under the same roof, it's bound to complicate things. Between banters, heady games of seduction, innuendos and insecurities revealed, the life in apartment 2B isn't simple, and a few slips in their relationship doesn't help the matter.
"You're driving me completely nuts. That's my fucking problem."

I have been dying to get my hands on this book since I first ran across it! The title, 2B Or Not 2B, alone just dragged me in and had me hooked! Then I made the mistake of actually reading the blurb for it…holy mother I must have this book!

Lucky, lucky me, Stephanie Witter allowed me to have an ARC copy of the book in exchange for an honest review…this meant I got it a day early!!! Hahahaha suckers! (Okay…just kidding…well I'm mainly kidding about the suckers part…)

Let's talk story line for starters…London is a college chick that doesn't want to stay in a dorm and is searching for an apartment with a roommate. After checking out a few pretty out there places she comes up to Byron's place and knows that she has to convince this guy that she can stay with him and things not be weird…even though she is a chick and he is an insanely hot guy (with a bit of a dark and womanizing side). They work it out so that she has a 2 month trial stay in his apartment, 2b, hence the awesomely creative name!
How about the characters? The chemistry between these two is crazy from the start! They use witty banter, call each other names, scream, use creative and hilarious nicknames, and treat each other like one of the guys…most of the time! I'm trying to do this without spoilers…and IT'S NOT EASY! This book is insane! The characters are addicting, easy to relate to and well developed. There are so many scenes in this book that had me thinking "yeah…been there!" especially with how London see's herself…some of her self descriptions are pretty harsh and tough to read. I doubt she is even all that big!

Byron is a douche for a big part of this book! I mean really…the way he behaves after certain things occur is just unacceptable! I don't care what he thought he saw or what misunderstandings there were! You just don't pull that crap! However, I found London and Elliot's way of payback to be quite epic and awesome!

The background characters in this book are amazingly well developed. I found myself upset when I didn't get to learn more about Macon and Ty or Sydney and Logan before the book ended…heck I'm even looking forward to and hoping that Elliot finds his own story in this series! (HINT enough??? Or shall I beg Stephanie for this one?)

I'm sure you are ready for me to get down to the point and say what I need to say about the book huh? Enough rambling about details without giving you any information!

So here it is plain and simple:

This book will keep you hooked from the moment you open it til the very last page where you are almost in tears and hoping that it doesn't take long for the next book to come out (and it better touch on how this relationship is going!). London and Byron are a dynamic, tenacious, insane couple that will have you feeling like you just road the best roller coaster ever! I can guarantee that you will love the banter between these two…this is a DEFINITE MUST READ!!

So stop reading my review and head on over and buy this book…like now!
(Just in case you were wondering: this book got 4 stars instead of 5 for me for a few small reasons. There were a few things that were a bit repetitive (but not so much that I didn't want to keep reading) and there were quite a few errors in my copy…this may not be so in the published copy and if it isn't then I will come back and edit my review accordingly!) 


Stephanie Witter is a French dreamer. She started learning English at three, and fell in love with the language. Always with a book, or two close by, she started reading in English when she couldn't wait any longer for Harry Potter to be translated in French. After a while, reading wasn't enough. She soon started writing Young Adult and new Adult Contemporary novels filled with angst, love, hope, drama and a touch of fun. PATCH UP
 is her first New Adult Contemporary novel.

Describe your book/series in 15 words or less!
College girl meets her new roommate, a hot and scarred ex-soldier. A hot mess begins!
When did you start writing? How did you come up with your books name?
I started writing when I was a teenager, but it never went beyond 4 to 5 chapters. I was still trying to find my "voice''. Then I took a long break, thinking that writing wasn't for me if I wasn't even able to finish a novel. But of course, new characters, new plots, new twists nagged me so I had to try again.
I started writing seriously 3 or 4 years ago. I have many more stories to tell! 

Finding titles is really difficult for me. I find a working title very easily, but the actual title that will be on the cover and such? It takes me a while. Usually, I think about my characters, the atmosphere of the book and I list words. Usually I list over 30 words and then I try to come up with something that clicks. I can't really explain the feeling, but at one point I just know it's the right one, as cliché as it sounds.
What is something about yourself that most of your readers don't know?
I'm not sure if they know about this or not, but I love watching TV series. I'm also laughing a lot while watching horror movies. Hm… Let me think about something to show how weird I truly am. 

I hate planes. Flying is really not my thing. Whenever I'm on a plane I become paranoid and think that I'm going to die. Believe me, it's difficult to keep a calm exterior when inside you're sure you're going to die. The last time I was on a plane, I couldn't release my hold on the seat in front of me. For almost 4 hours.
OH MY GOSH! I have never been on a plane and if I can help it I never will lol they terrify me!!
What do you find most challenging about being an author?
I have two things I find challenging. Marketing my books and myself, because I'm really not good at this, and finding the time to actually write. I'm not a full time author and it can be even trickier to find a few hours every day to actually meet my deadlines. And it's without saying that writing a book is pretty challenging in itself. 

What do you find most rewarding about being an author?
Readers' messages, reviews and enthusiasm. Without them I'd keep my stories stored on my laptop. They make it even more thrilling because when they tell you that you made them laugh or cry? It's amazing. Creating something from just an idea, something that brings emotions to people is something I never thought I'd be able to do.
What book are you most proud of so far?
It's difficult to say… I love my books obviously, but the one very close to my heart is 
PATCH UP
. It's a New Adult Contemporary novel about abuse among other things.
What are two of your favorite books/series by other authors?
I love Slammed by Colleen Hoover. I've been a fan since the very beginning when she first self-published it.

I also fell in love with Kellan Kyle in Thoughtless by S.C Stephens.
But it's really bothering me to list only two because I have many, many books and authors I deeply love.
I know, I know! Sowwie…I have to limit it! But I know it's a toughie for me to answer and honestly changes from day to day for me! lol
What's next for you?
Next? I'm working with my beta reader on finalizing FIX UP, Patch Up's sequel that will be published next October. I'm also writing the first draft of a novel that features Kate & Derek, two secondary characters from Patch Up. This book will be published next November. I'm still pretty busy!
Now for some silliness to brighten our day!
If you could have any one toy what would it be? Why?
A yoyo. I remember playing a lot with one when I was a small kid. It was trending again at the time. lol I remember having fun with it and also throwing against the wall of my house when I couldn't do some tricks.
If you could have one super power what would it be? Why?
Telekinesis. Don't ask me why, I don't have a clue why. Maybe it's my inner lazy self speaking up?
What would I find in your refrigerator right now?
Watermelon, yogurts, some vegetables, beef, sodas and nothing else. I need to go grocery shopping tomorrow.
If your book/series was a dessert, what would it be and why?
2B OR NOT 2B? would be some kind of exotic flavored dessert because London and Byron are quite an odd mix and they have some spunk. So, a dessert a little bit odd with an unexpected ingredient that makes it surprising.
What do you think about when you are alone in your car?
Mostly? New stories, my characters, what I still need to write next. I'm slightly obsessed as you now know.

Enter the giveaway, comment below and as always show us some love and SHARE,  SHARE, SHARE!