Title: The Substitute
Author: Denise Grover Swank
Series: The Wedding Pact
Published by: INDIE
Date published: Jan. 21, 2015
Genres: Contemporary
Book Length: 350 pages
Steam Rating: Steamy
Main Characters: Josh & Megan
Buy on Amazon
"I love that Denise writes in such a manner that it leaves you dying for more. Ready to get down on your knees and do whatever it takes to find out what happens next! "~Becca

The first book in a humorous contemporary romance from New York Times and USA Today bestselling author, Denise Grover Swank.
Megan Vandemeer meant to tell her parents about her broken engagement, but a month and a half later she finds herself boarding a plane home to her wedding. Having stretched avoidance to its limits, it's time to come clean–a terrifying prospect since her mother is sure to blame her rather than her cheating, emotionally frigid ex. A couple of drinks and two Dramamine later, Megan finds herself spilling her sob story to the tall, dark, and handsome stranger in the seat next to her.
With only one week left to save his business, Josh McMillan boards a plane to Kansas City in a last-ditch effort, leaving the details to chance. An unexpected answer is delivered in the form of the beautiful brunette beside him. Though she's completely loopy, her honesty, openness, and humor charm him. So when she passes out before landing, he helps her off the plane–a good deed that leads to a colossal misunderstanding. Her parents assume he's her fiancé. In a twist of fate, the mix-up might help Josh save his business, so he plays along, figuring he can help Megan too. All he has to do is stage a public break up convincing enough to appease her mother.
Josh is only supposed to be a substitute groom, but the more time he and Megan spend together, the more their pretend engagement starts to feel real…and the less they want to break it off. Can a relationship that began as a farce turn into happily ever after?

 If you are a romance junky, as I am, you have most likely read and re-read and yawned over your fair share of fake fiancee books. I mean…they are EVERYWHERE! When The Substitute got nominated for our #MFEOTourney15 it piqued my interest, so I sent Denise a message and asked if she was interested in sending me an ARC and having it be a part of our blog. Because she is absolutely awesome, she agreed right away…and even offered up a SIGNED PRINT COPY to one lucky winner! (See what I mean about her being awesome?!?)
Okay so anyways where was I…the well played out fake fiancee story…
So, I am super, absolutely, amazingly thrilled that I gave this story a chance! Yep…it is a played out plot line…but Denise has written it in such a way that I just didn't care!
Why don't you head on over to Amazon
now and pick up your copy…no really…I'll wait…
….
….
….
back yet?
….
….
….
Not only did I not care…I honestly didn't even remember that I was reading a story line that I have read many times before.
What Denise pulled off in The Substitute is nothing short of an epic love story, and let me just say that I totally understand why someone nominated it for MFEO…Megan and Josh are pretty much the epitome of MFEO and definitely get our stamp of approval!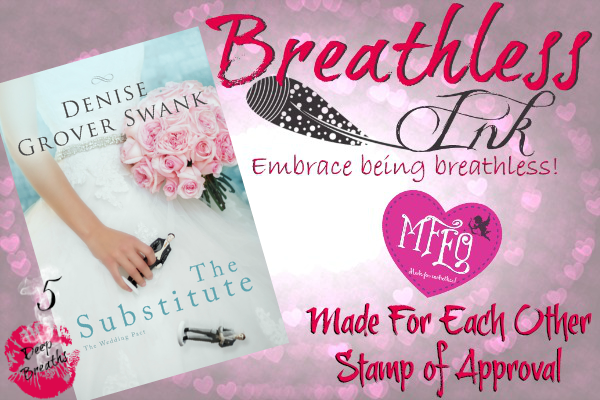 The story flows beautifully. The twists and turns along the way are well developed and fit in seamlessly with the excellent characters. Everything just seems so natural and real. once we meet Megan's mom…well lets just say that I totally get why she didn't want to tell the truth about everything!
While the book does focus mainly on the relationship between Megan and Josh, we get small snippets from their POV about Libby and Blair that give us hints as to what may be coming later in this series. We also get some mystery and fun in the story. The issue with Josh's business is something that kept me on my toes. I was so nervous about the outcome and what Josh would decide. I was so invested in the story and its characters that I couldn't figure out what course I wanted him to follow. No matter what choice he made he would end up hurting someone and that just isn't cool.
The fact that Denise's writing style was able to make me feel so connected to the characters and story says a ton about her books. I adore a book that can hook me from the first line (I mean seriously, any book that can manage to use the word 'craptastic' in the first line is bound to be epic!) and keep me until the very end is written by someone with an amazing gift.
This was my first read from Denise, but I sure don't plan on it being my last!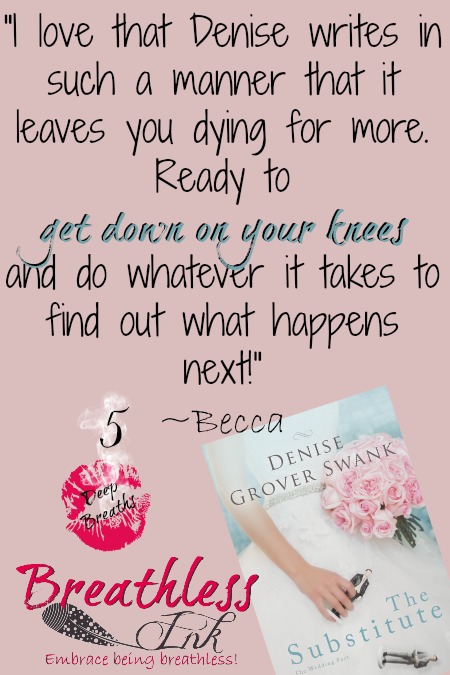 I love that Denise writes in such a manner that it leaves you dying for more. Ready to get down on your knees and do whatever it takes to find out what happens next! There is a small cliffhanger at the end…but in all honesty it is more of an insight into the next book seeing has Megan and Josh totally get their HEA.
So…if you haven't already…and I'm not sure what you are waiting for…head on over to Amazon and one-click this bad boy!!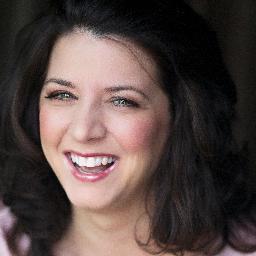 Denise lives in Lee's Summit, Missouri. She has six children, three dogs, and an overactive imagination. She can be found dancing in her kitchen with her children, reading, or writing her next book. You will rarely find her cleaning.
Find Denise Swank on:

a Rafflecopter giveaway
What would you do if you found yourself on a plane to your wedding…minus the groom?