Title: Love Overcomes
Author: Angela Schroeder
Published by: Anaiah Press
Date published: Nov. 4, 2014
Genres: Contemporary
Book Length: 205 pages
Steam Rating: Sweet
Main Characters: Arabella & Jeremy
Buy on Amazon
"Love Overcomes is a sweet romance that had me laughing and crying and begging for more. I seriously found myself wishing that this book was part of a series! " ~Becca

Going to Hollywood was supposed to be something that would change Clara Mackenzie's life forever.
Her younger sister, single mother Arabella, never imagined that going to California with her sister would have such a huge impact on her life. Now, she needs to try to overcome her past and try to trust again or be doomed to be single forever.
Arabella Mackenzie and her son Liam have never wanted or needed anyone other than their family. When Arabella meets Jeremy Fowlis she begins to have feelings for a man for the first time since before her son was born. Shy, Clara begins to fall for an actor of her own when she meets dashing Jake.
Jeremy is not use to women who do not want to date him because he is an in-demand actor let alone a woman who does not even recognize him. He finds he wants to know more about her but is not sure if he can handle the fact that she is a single mother and has a past that seems to be shrouded in mystery.
Can Arabella and Jeremy both overcome their doubts, fears and past in order to find love?

Love Overcomes is a sweet romance that had me laughing and crying and begging for more. I seriously found myself wishing that this book was part of a series! 
Arabella and Clara are sisters. When Clara gets the chance to work on the movie set for her book Arabella offers to go with her for support. Bringing her young son along for the fun adventure the sisters never expected to find themselves falling for two amazing men. I loved how beautifully written the story is. It has a focus on growth and healing while keeping in enough romance to keep things rolling and interesting.
I think my favorite thing about this book is that there is a clear focus on the romance and the lives of the characters. Yes, Christianity is a part of the book. However, while the characters show a great love for Christ and want to share that with the people they love, the story isn't over taken by the religious aspect of things. There is mystery, there is romance, and there is danger all of which blends perfectly with the religious aspect of things. A lot of books that want to add a religious aspect to the story take things too far. They make it so that the focus is solely on God and not on the story itself. I felt that Love Overcomes honestly had a larger impact on me religiously because it didn't shove it in my face. It flowed well and had just enough to add to the story instead of take away from it. 
The characters are very well developed and absolutely realistic and lovable. The story line is amazing, however, sometimes I felt like the narrative style of the writing kept pulling me away. I suppose I have just gotten used to reading stories that are written a little bit differently. The book switches between characters a bit and we get to learn not only about Arabella and Jeremy's romance but Jake and Clara's as well.
The romance side of the book was a little lack luster…but it is a sweet romance and not a steamy one. I felt that the dialogue was a bit forced and hard to tell who was talking (they didn't have their own voice or style…) and the few romantic moments between characters were very minimal and not really mentioned much. I get that this is a Christian romance and there for I didn't expect there to be sex…however, I did expect there to be a bit more romance. A few more kisses or heated scenes. 
I will say that there were one or two moments where I honestly stopped and said "What in the world? Why is he/she…".
**SEMI SPOILER ALERT**For instance, Jeremy and Arabella 'break things off' for ten days….just ten days…and in those ten days he is spending time with another woman?? Umm…sorry but that doesn't work for me! I know that he doesn't 'do' anything with the other woman, or at least if he does it isn't mentioned. However, it really bothered me that he even tried to move on that quickly.
Over all, I really enjoyed this book and do recommend that you read it. The story is fun and kept me wanting more.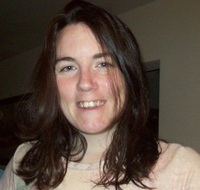 Angela was born and raised in Iowa, in a river town known for its pearl buttons. Having four siblings, she never lacked for someone to play with. As she grew older, she found herself pulled into books and writing more and more. Her parents are her heroes, her siblings her confidants and tormentors, and her children her wonderful blessings.
Do you like to read Christian romance novels?